FDA CE AIR MASSAGE THERAPY MACHINE IPC01
Sunlion Technology IPC01 provides professional massage therapy at home with a soft transition in between the air chambers. A good machine helps relax fatigue muscles, improve blood circulation and lymphatic drainage.
It has a knob that can be adjusted for pressure, a knob that adjusts treating time, and a button for on / off function. It's specifically recommended for elderly people who would like an easy machine to handle.
Take control of your legs recovery with the Boots Package
INCLUDES: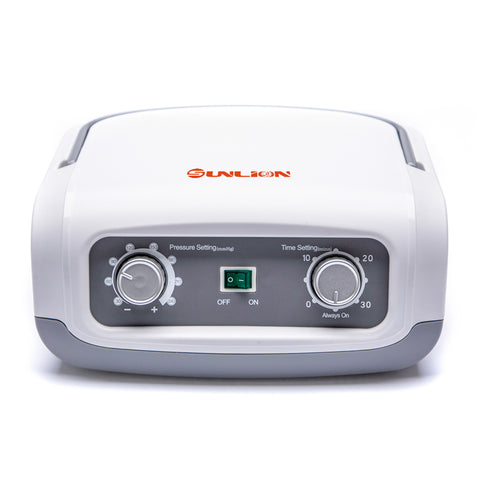 Specification:
Machine Size: 240*180*110mm
Power Consumption: 65W
Treating Time: 0~30mins or always on
Pressure range:30 ~240mmHg
Channels: 4 chambers
One Program: peristaltic mode
It's no wonder that Sunlion Recovery Boots are popular amongst athletes of all backgrounds.
Benefits include:
Connect two legs at the same time to use
Helps Relieve Knee Problems, Legs and Feet Swelling, Water Retention, Cramps and Soreness.
Improves Blood Circulation and Promotes Proper Function of the Lymphatic System.
Removal of waste products including lactic acid.
Improved range of movement and flexibility.
Perfect After a Workout or Training for Athletes Sports Recovery; Decreased recovery time.
Releases Nerve Compression and Tension. / Helps Reduce Venous Insufficiency and Varicose Veins.
Increased flexibility and joint range of motion.
No Side effects.
Why not try them out for yourself?